BiDiNG TiME - Walks and Talks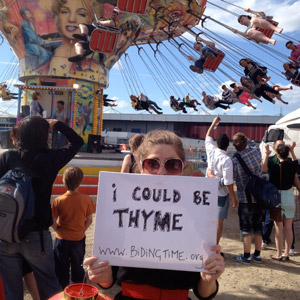 If 'all the world's a stage' and we want to change the world, what does it mean for the stage? BiDiNG TiME – an experiment to share a story around the world and make theatre, acting locally / sharing globally. Thyme is a young woman looking for love, success and the changing weather. What does she really want?
Walk with us to Arthurs Seat to share the process/journey or come to a talk about how to get involved.
Talks
5, 12, 19 Aug
BiDiNG TiME is a seven year journey and ongoing invitation to help rethink the system of theatre making to be more democratic, respectful of cultural difference and inclusive. By sharing an original story, first made in 1987, about a young woman looking for love and success, producer Pippa Bailey encourages creative people to adapt and rework it to suit local conditions. BiDiNG TiME talks shares some stories of the process so far, some remembered, some borrowed and some invented. Discover a new approach to theatre making: What are you waiting for?
Walks
7, 10, 14, 17, 21, 24 Aug
Walking is a vital part of the BiDiNG TiME project. The central character, Thyme, walks during the story. The act of walking shares a journey, physically & metaphorically. By sharing this process we are also connecting to the natural environment in Edinburgh, rain or shine.
Walk at 10am on Wednesdays & Saturdays from 7th -24th August from Summerhall to Arthur's Seat (120mins). In a very short time you will be out of the city gaining insight, fresh air & perspective. You'll also recieve a copy of the BiDiNG TiME story adapted by master storyteller Vergine Guilbenkian. These walks also commemorate the walks of 1913 when women all over Britain walked to raise awareness of their campaign to be allowed to vote.