Daydream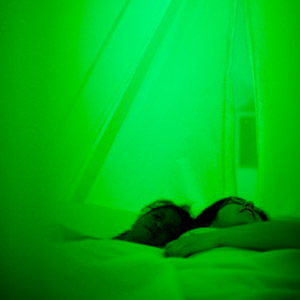 The performance runs every 15 minutes in three 4 hour blocks through the day
11.00 – 15.00 (last show 14.45)
15.30 – 19.30 (last show 19.15)
20.00 – 00.00 (last show 23.45)
Come in. Settle down. Close your eyes and listen. Are there bees living in your ears? Has the sea stopped crying? Is the house sighing? Let the music caress you (inside a 40' shipping container).
Create your own virtual story or fantasy, return to the essence of listening in a delightful 15 minutes. Originally commissioned for MIF11's Music Boxes, Daydream drives the imagination. Together with Ruimtevaarders' designer duo, composer Dominique Pauwels and the Gent production house LOD, Inne Goris creates a place of calm where the outside world is only a hum in the distance.
"Inne Goris Using a minimum of resources she generates a maximum of emotion in her audience. Each viewer experiences the creation in a different way. We ourselves, led by the lyrical piano lines interspersed with a playful opera voice and sensual beats, meandered from story to story. From image to image. Daydream is an extremely short but very intense experience and one we can recommend. This is theatre at its best and purest."
Knack
"accomplishes what a great deal of conventional theatre often fails to do."
The Skinny
"Calming and entrancing, a true gift of the Fringe."
Three Weeks