Edinburgh Science, Edinburgh Magic!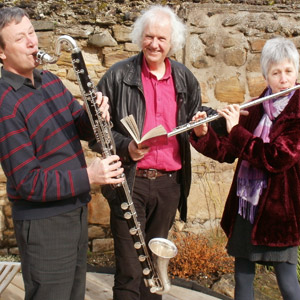 Returning for their third year, Ron Butlin (Edinburgh's Makar / Poet Laureate) with acclaimed musicians Dick Lee and Anne Evans have updated their 5***** show with generous helpings of Edinburgh Science. This unique and very off-beat celebration of Edinburgh is witty, satirical and highly entertaining – guaranteed!
"The whole performance was magical, witty and a tribute to the poetic genius of Butlin ... spellbound audience ... the flute combining beautifully with the darker chocolate tones of the bass clarinet ... a truly wonderful experience ... this production is a must *****"
EdFringeReview.com
"[Butlin is] . . . an engaging storyteller. . . The music is finely tuned to the rhythm of Ron's poetry, and the two musicians work together with the practised ease of experienced hands"
Broadway Baby
"Edinburgh's premier poet Ron Butlin is paired with two exceptional musicians to create an absolutely lovely performance . . . an outstanding and relaxing hour's tribute to the home of the Fringe: Edinburgh.  Butlin's poetry is witty and magnificently delivered. [The] beautifully crafted music composed by Dick Lee perfectly amplifies Butlin's poems of Edinburgh's beauty, history, and character"
Three Weeks
"This is a show to savour"
The Edinburgh Reporter
Search