Freeze!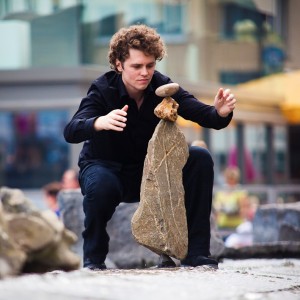 Please note, occasionally this show will run over time.
Due to the nature of the show, it may run over time.
Once in a while something raises the hair on your back of your neck. Something incredibly minimal, beautiful and breakable, this is that show. Small in approach, big in ideas; since a child, Nick Steur balanced rocks on top of each other. No glue, cement or tricks involved. It's all about concentration and finding the balance between your own force of will and the stone. Share some of his focus and realise that true happiness lies in the luxury of being occupied with one thing only.
Presented as part of the inaugural Big in Belgium season at the Edinburgh Fringe.
"In the most impossible ways he builds his staggering utopia. When the house breathes, the mirror underneath it breaks. These are moments the whole world could stand or fall. Nick Steur lets the world stand. He harvests grace from pompous mass"
De Standaard
"2013 Fringe First Award Winner"
The Scotsman