HeLa
Adura Onashile in association with Iron-Oxide.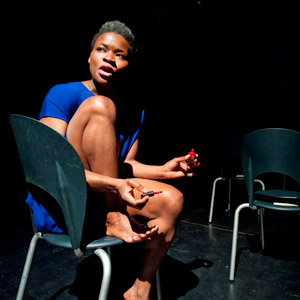 1951. Henrietta Lacks walked into the coloured section of the John Hopkins Hospital with a pain in her abdomen. A cell sample taken without her permission was used as the raw material for some of the most important scientific discoveries of the past 100 years. This solo show by Adura Onashile takes as its inspiration the true life story of Henrietta Lacks and the extraordinary life of the HeLa cell line. HeLa is an all consuming story, intertwining genetic identity, social responsibility and current ethical debates about human tissue research and ownership…
Originally commissioned by Edinburgh International Science Festival.
Part of Made in Scotland 2013.