I Guess if the Stage Exploded...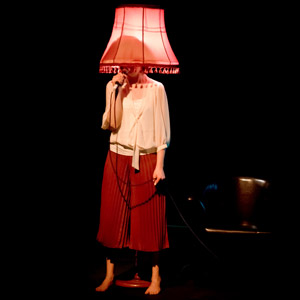 Sylvia Rimat follows the aspirational and possibly impossible goal to present a show never to be forgotten by its audience members. By introducing memory tasks and techniques, then applying them to the stage situation, the audience is systematically trained to remember – hopefully forever. The show draws on presence, on what happens in our brain when we create memories, and our urge to be commemorated. Rimat will be joined by several performers from around the world who support her mission live via Skype and by a living eagle owl.
Part of British Council Edinburgh Showcase.
Sylvia Rimat is an In Between Time Associate Artist.
I guess if the stage exploded… was commissioned by SPILL Festival 2011 at The Barbican, London, and supported by Arts Council England, ICIA, Bath, and Theatre Bristol.
"A wonderfully inventive performance, that not only questions the nature of performance spectating but also offers tantalising […] theatrical joy"
A Younger Theatre
"I'd recommend catching Ms Rimat if you have the opportunity; she's a unique, charming and thoughtful talent."
Gscene Magazine
Reviews
British Theatre Guide - Read

Search