Journey of a Thousand Wings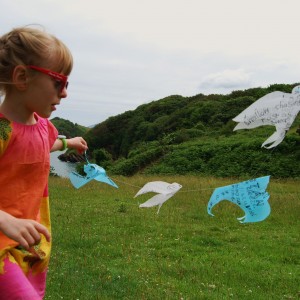 Artist Kate Mackay of Alchemy Arts has worked with children from Scotland and Asia to create an art work that comprises of hundreds of haikus written on the backs of silk cut-outs of swallows.
The haikus have been written by the children, who were asked to imagine cities around the world as seen through the eyes of swallows. Ideas of travelling, perception, perspective and imagination were explored through numerous workshops at these schools and community centres in three countries.
Swallows were chosen for a variety of reasons. They have long represented cosmopolitanism and migration; they are birds that exist in all continents (except Antarctica) and travel with great resilience over long distances – a relevant connection at this highly international Festival. Additionally, swallows were also amongst the first creatures studied by veterinarians and scientists, who once believed they might have gills!
Journey of a Thousand Wings will be in Summerhall from the 2nd-25th August.
Organisations participating:
Tollcross Primary,
St Marys RC Primary,
Cameron Toll Community Centre,
Dirleton Castle,
Kelburn Festival,
Hua Dan community project in Beijing China
Swechha youth project in Delhi India