La Merda (The Shit)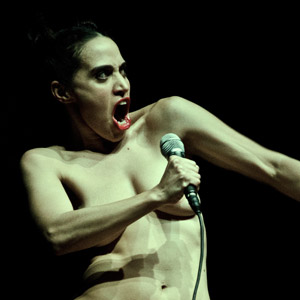 The 2012 multi-award winning Fringe First hit returns to Summerhall. A 'young', 'ugly' and literally naked woman reveals her bulimic, revolting and public secrets as she struggles with obstinacy, resistance and courage for her own celebrity breakthrough in the society of Thighs and Liberty.
Stage Award-Winner Silvia Gallerano resprises her captivating performance in Cristian Ceresoli's acclaimed play.
The Scotsman ★★★★
The List ★★★★
The Herald ★★★★
The Stage MUSTSEE!
BritishTheatreGuide ★★★★★
Examiner ★★★★★
BroadwayBaby ★★★★★
ThreeWeeks ★★★★★
The Skinny ★★★★
Exeunt Magazine ★★★★★
Examiner ★★★★★
Fringe Review ★★★★
EDINBURGH FRINGE SELL OUT SHOW 2012
FRINGE FIRST AWARD 2012 FOR WRITING EXCELLENCE
THE STAGE AWARD 2012 FOR ACTING EXCELLENCE
ARCHES BRICK AWARD 2012 FOR EMERGING ART
TOTAL THEATRE AWARD 2012 (NOMINATION) FOR INNOVATION
PREMIO DELLA CRITICA 2012 BEST SHOW
"Howl of human emotion makes for unforgettable theatre. A near-perfect recreation of humanity, and indeed, society at its most powerful, most desperate, most vulnerable and most cutting"
The List
"A piece so literally and metaphorically naked, raw and angry that you leave the theatre feeling as if you've had all your skin scraped off"
The Guardian
"Devastating stream of consciousness. One of the most wonderful full on performance ever seen in Edinburgh Festival. Are you brave enough to spend one hour with Gallerano?"
The Scotsman
Search