Newton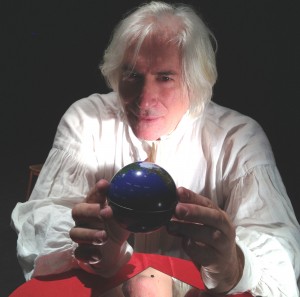 Sir Isaac Newton. Supreme genius. Unique personality. He invented the cat-flap, refused to use spoons, insisted on crimson décor and his old apple tree now forms the shape of a question mark. He overcame a mother's rejection, childhood bullying and early humiliation to become a giant of science, finance and society.
With characteristic theatricality and masterful storytelling, Klaff's funny, touching show gives us a warts-and-all portrait of a superhuman thinker, an alchemical wizard and a vindictive – though loved – public figure.
Director: Colin Watkeys.
Winner of Three Weeks Editors' Award
"A triumph"
The New York Times
"A gift for clarifying even the most complex and confusing subjects with joy, wonder, emotion and hilarity"
Jack Tinker, Daily Mail 1994
"If you want your grey matter stimulated to a degree rare on the Fringe, and to be left with much to contemplate, as well as seeing a master craftsman of the stage at work, get along to this show."
Edinburgh Blog 2011