Projector/Conjector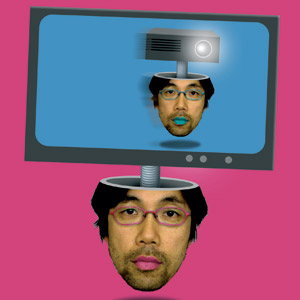 Inspired by Swan Lake and Star Wars, Projector/Conjector playfully references dance and mechanics of theatre. With a video projector and TV attached to their heads, two creatures called Projector and Conjector meet and fall in love, dancing through screens.
Mamoru Iriguchi is a zoologist, theatre designer (Best Design, Evening Standard Theatre Awards) and multimedia performance maker (commissions including the Place Prize and Plateaux Festival, Mousonturm). He is an Artsadmin Associate Artist 2012/13.
"Projector/Conjector is a love story ... but not like any other...Through images and words they reveal/project, ... a bonkers story emerges...It's a kind of sci-fi Swan Lake tragi-comedy, and as well as being absurdly hilarious, it's also very sweet."
Lyndsey Winship, dance editor, Time Out
"...dance is referenced in a beautifully techno-cuckoo way. It's a piece about outer space and inner desires, tragic love and a literally bloody lake of swans, It's also charmingly dead-pan, witty and inventive."
Donald Hutera, dance writer
Reviews