Solfatara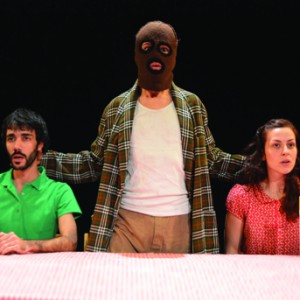 Performed in Spanish with English subtitles.
What happens when your fear comes round for dinner, and your deepest, darkest thoughts refuse to lie low? Solfatara: openings in volcanic terrain, emitting hot sulphurous gases high in sulphur. We are full of these geographical phenomena, orifices that allow our insides to come to the surface.
"Uproariously rude and discomfiting" ★★★★ The Times
"Impressively unpredictable and beautifully played, this is an accessible, innovative treat. Look beyond the balaclava." ★★★★ Fest 2013
"Absurdly vicious and hilariously subtitled"
Lyn Gardner, The Guardian
"Uproariously rude and discomfiting."
Donald Hutera, Times
"a beautifully novel and terrifically bonkers new show "
Three Weeks