Story's End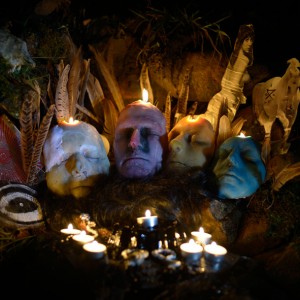 'Men fear death as children fear to go into the dark; and as that natural fear in
children is increased by tales, so is the other'
Francis Bacon
A reconnaissance mission into the no man's land where death borders with storytelling. From Presbyterian silence to the colour of the Día de Muertos, Story's End surveys the gamut of death, and the tales we tell about it. Live music, film and spoken word brought together by folk noir pioneers The Dead Man's Waltz, alongside a host of award-winning collaborators.
Part of Made in Scotland 2013.
"Story's End is the second major project from The Dead Man's Waltz. It was created with support from Creative Scotland and premiered as the opening night of the Glasgow Short Film Festival 2013 to a sold-out CCA Theatre."
"The Dead Man's Waltz find the common ground between the bleak tragedy of the island folk ballads and the more flamboyant execution of the European cabaret tradition"
The Scotsman
Search