The Tempest in the Firth of Forth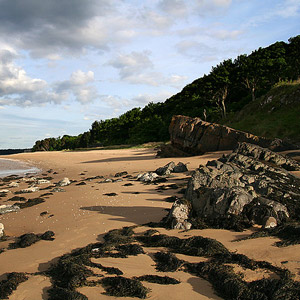 This is an offsite show, please meet in the Summerhall Lobby. Transport to Hopetoun House is provided. There is no disabled access.
Travel to a stunning beach on Hopetoun Estate to experience William Shakespeare's The Tempest in an ideal setting.
It is a tale imbued with magic and enchantment, and sees the exiled Duke of Milan, Prospero, conjure a storm to shipwreck his usurping brother Antonio. Prospero has spent the last twelve years on an island with his daughter Miranda, and intends to restore her to her rightful place.
We invite you to join us on a captivating journey through Edinburgh, through the Mediterranean, and through the imagination.
Please note that the times on your ticket include the travel time from Summerhall. If you would prefer to make your own way to Hopetoun Estate the start and end times of the show are as follows:
7th August- 11.45 – 14.00
8th August- 11.45 – 14.00
9th August- 12.45 – 15.00
12th August-14.45 – 17.00
13th August- 14.45 – 17.00
14th August- 14.45 – 17.00
15th August- 14.45 – 17.00

"An enthralling, unforgettable experience, *****"
edfestmag.co.uk
"Superbly realised […] Cannon-Brownlie's production is an unforgettable piece of drama"
The Scotsman
"One of the most stunning and impressive productions of Shakespeare that I have ever seen"
The Good Review
"Every aspect of this fluid, cohesive production fits together seamlessly"
edfestmag.co.uk
Search