Tourniquet 2013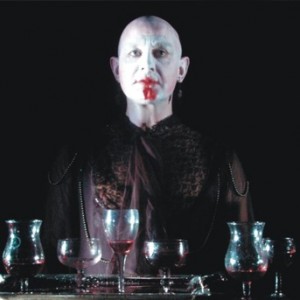 Hailed by the international theatre press as one of the year's best performances,Tourniquet is a visually enchanting work by acclaimed Belgian company Abattoir Fermé. Without the aid of any spoken text, three ghostlike characters perform old rituals and evoke the dark history of a house. Mysterious, eerily beautiful, hypnotic, visually stunning and shocking to some, Tourniquet is the theatrical,trance-inducing counterpart of The Exorcist or the cinematic work of David Lynch.
Presented as part of the inaugural Big in Belgium season of work at this year's Edinburgh Fringe.
"Dark and ritualistic..."
Lyn Gardner, The Guardian
"In the same way that a tourniquet stems the bleeding, this maelstrom of images and the soundscore of Kreng wedge themselves further and further into the mind of the viewer. Tourniquet is a silent film of an hour and a half on stage and with a visual power equal to that of Murnau."
Knack Magazine
"Tourniquet offers a hypnotic experience and is one of the best plays of the year. The actors don't utter a word, but it is the viewer who is left behind speechless at the end. "
De Standaard, newspaper
"a performance so powerful it is overwhelming, intensely terrifying, and absolutely brilliant."
The Skinny
"Stef Lernous's direction sees one scene shift into another seamlessly "
A Younger Theatre
"a lush, immersive sensory experience"
Fest
"like being skull-screwed by an enigma."
Broadway Baby
"Must see show!"
The Stage