YurtaKids! 24583 Little Creepy Wonders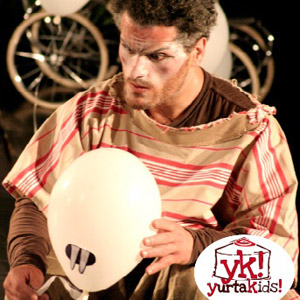 YurtaKids! Offering the best children's and family theatre – all in one tent.
24583 is a gothic tale about diversity and freedom achieved through self acceptance that will delight children and adults of all ages with its dark and dreamy atmosphere. Inspired by Tim Burton, this is a physical theatre show for three actors and twenty balloons where choreography (Scottish Dance Theatre), video and narration are enhanced by rhyme.
Presented by ScarlattineTeatro (shortlisted for a Total Theatre Award and Pick of the Fringe 2009). 24583 was awarded the Honorary Diploma of Polish Puppeteers Centre POLUNIMA 2012.
Please note: a limited number of half price tickets are available at the Virgin Money Half Price Hut located at the Mound Precinct
"Performed in rhyme by three incredibly effective actors...tender and funny"
Eolo-ragazzi.it