Images Were Introduced
Michael Nyman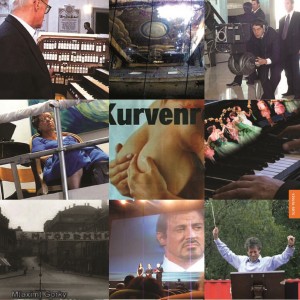 Michael Nyman's first ever exhibition in Scotland will consist of a major installation in Summerhall's Upper Church Gallery (off Hope Street Terrace) showing simultaneously the video film-maker, photographer and composer's ten (10!) remakes of the famous vintage film "Man with a Movie Camera" by the Russian film-maker Dziga Vertov and his wife Yelizaveta Svilova (who edited the film).
Nyman's ten films share identical frames which are synched exactly to the original film and additionally all of the films share a common soundtrack written by the artist and composer. All ten films and the original work will be able to be viewed from a single view point in the gallery space or the visitor may walk amongst the screens and monitors.
This will be a spectacular and arresting experience of sound and vision – and an audio-visual event of amazing technical complexity which has never before been attempted anywhere in the world before this premiere at Summerhall.
Other photographic works by Nyman will be shown also in the side rooms of the upper gallery. The works in this series are entitled "Sublime" and consist of photographs taken by Nyman as he travels the world.
Links