For Their Own Good
Untied Artists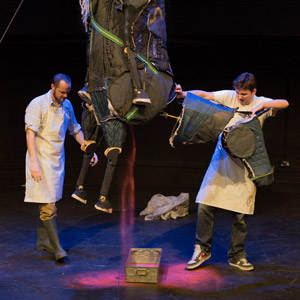 Can the way we kill animals tell us anything about how we deal with our own demise? In a former veterinary demonstration room, two knackermen investigate the pitfalls of being high up the evolutionary chain.
Combining beautiful puppetry, new writing and documentary material this show tells a moving and darkly comic tale about the only certainty in life. Death, how it's become removed from us as a process, how maybe we should reclaim it.
Bitesize commission supported by WAC, mac, Bristol Ferment, China Plate, British Council and Arts Council of England.
Part of British Council Showcase.
"2013 Fringe First Award Winner"
The Scotsman
"Unflinching honesty, genuinely humbling and unique"
Strawberry Line Times
"Strangely beautiful"
Bristol 247
"Engaging and provocative"
Bum On A Seat
Search
The Royal Dick
Sunday – Thursday: Noon until 11pm
Friday – Saturday: Noon until 1am
Food served from noon till 10pm everyday
Summerhall Cafe
Monday – Friday: 9am – 5pm
Saturday – Sunday: 9am – 6pm