YurtaKids! A Story of a Man and His Shadow
Principio Attivo Teatro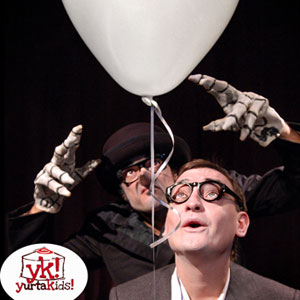 YurtaKids! Offering the best children's and family theatre – all in one tent.
Is it a dream? A nightmare? Or maybe a game? A Story of a Man and His Shadow is many things: a black and white cartoon, a silent movie with two real actors, a kooky and highly entertaining show. Watch as a man, his faithful balloon, and a mischievous figure dressed in black fight it out in a white square, an imaginary room made of invisible bricks.
A silent show with a live music soundtrack.
PADOVA PRIZE 2010 – National Fetival for kids and young people – Italy
Please note: a limited number of half price tickets are available at the Virgin Money Half Price Hut located at the Mound Precinct
"Best Italian show for kids and young people"
Eolo Awards Prize 2010